http://www.boothbayregister.com/article/resources-lyme-disease-victims-now-community-center/78650#.WCuVdgZY9MA.facebook
Resources for Lyme disease victims now at Community Center
Tuesday, November 15, 2016 - 7:30am
Boothbay Register Newspaper
Did you know that many of our neighbors are suffering from the effects of Lyme disease and the Midcoast is the center of the current epidemic in Maine?
According to Paula Jackson Jones, president and co-founder of Midcoast Lyme Disease Support & Education (MLDSE), many victims of tick-borne diseases may not even know the reason they are feeling so ill. As an example, the telltale bull's eye rash only presents about 50 percent of the time and the most frequently administered test is only reliable about one third of the time, according to the Centers for Disease Control.
A Lyme disease victim herself, Jones explained the frustration of dealing with the scarcity of information about her illness. After being bitten by a tick in 2009, she was not diagnosed until two years later when her symptoms became very severe. With her disease in remission, she founded MLDSE with Angele Rice of Bath in 2014. In May, 2016 the group was named the official Maine partner of the National Lyme Disease Association.
Jones explained that the disease is actually bacteria which cause a number of infections with clusters of symptoms that are difficult for the medical community to diagnose because the range and severity are so broad. As a result, many patients are undiagnosed or misdiagnosed and the bacteria that cause the disease remain in their systems. Symptoms may mimic neurological, cardiac/pulmonary, gastrointestinal diseases and even behavioral issues.
Fortunately, according to Jones, there is now a blood test that is highly accurate (98.6 percent) in showing if there is a current or previous infection.
Those who have the disease may be suffering over a long period of time from fatigue, aches, chest pains, fever and other symptoms. According to the CDC, the average patient will see five doctors over almost two years before being diagnosed with the disease. Along the way, they may be abandoned by family members and friends who do not believe that the vague symptoms are real.
Among diseases caused by the bite or touch of an infected entity ("vector-borne"), the national CDC states that Lyme disease is the fastest-growing infectious disease in the U.S.
Half the ticks in our area are believed to be infected with the disease and it may be transmitted by a mosquito bite or as some physicians believe, through sexual contact with an actively infected person, according to Jones.
To assist Boothbay area residents, the Community Center is lending its offices to MLDSE on the third Thursday of every month for what Jones calls "Our whole package, including information about the local network of doctors and experts, advocacy and support resources. We will provide whatever support is needed." The hours are 6 to 8 p.m. and the center is closed to all other activity during that time to ensure privacy.
"(Attendees) can either be part of a group or meet one-on-one with our staff. You're going to find your 'village' because we know exactly how you feel." Lyme disease sufferers and their families can also set up appointments or receive more information by calling Angele Rice at 207-841-8757, Paula Jackson Jones at 207-446-6447 or emailing:
info@mldse.org
.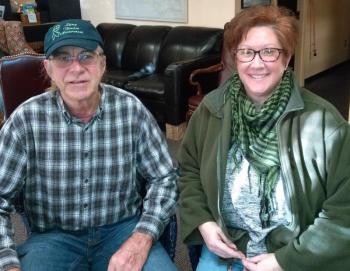 Ben Berkowski, member, and Paula Jackson Jones, president of Midcoast Lyme Disease Support & Education, provide advice to area victims the third Thursday of every month from 6 to 8 p.m. at the Boothbay Harbor Community Center. JANE CARPENTER/Boothbay Register